In 2022, Plastics Europe launched a multimillion-euro, five-year (2022-2026) scientific research project: Brigid. This project aims to assess the potential risks to human health from microplastic exposure through ingestion. Ingestion, along with inhalation, is hypothesised to be the main entrance pathway of microplastics into our bodies.
Microplastic contamination is a global issue, and solutions are urgently needed. Looking forward, it is essential that any measures to tackle the microplastic issue are based on reliable science. However, scientists have not yet fully understood whether microplastic exposure has an effect on humans.
A five-year (2022-2026) scientific research project
These concepts are reflected in the three-armed Brigid's cross, which has inspired the logo of our initiative – also a nod to the three-tiered experimental approach of cell, tissue, and organism testing. Brigid is focusing on microplastics of seven different polymer types:
polyethylene (both linear low density & low/high density)
polypropylene
polystyrene
(rigid) polyvinyl chloride
polycarbonate
polyamide-6
and polyethylene terephthalate*
In the absence of robust real-world exposure data, these polymer types are assumed to be the most representative, amongst those produced by our members, of what the average person potentially encounters most often during their daily life.
*polyethylene terephthalate – will be only partially included in tests.
Brigid gets its name from the Celtic Goddess. Part of the Tuatha Dé Danann, the Goddess Brigid is associated with health, protection, and wisdom – three concepts reflected in the core values of project Brigid: gathering knowledge on microplastics, to ultimately protect the health of humans.
The structure
The structure of Brigid is divided in six interconnected Working Packages (WPs), see below:
WP1
Here, microplastics will be prepared through the micronisation of commercial polymer grades the seven polymer types. Some microplastics will be labelled, to better track them during exposure experiments. All the WP1 microplastics will be characterised with different analytical techniques.
WP2
The exposure assessment working package: the objective is to confirm the presence in the body and track the path of microplastics, through different Tasks.
Task 2.1: a human exposure computer model, built in collaboration with Cefic-LRI project B24.
Task 2.2: cell-culture assays to establish the potential for microplastics to cross biological membranes.
Task 2.3: Human Stool Study (HSS) – a study aiming to count and characterise microplastics in human stool.
Task 2.4: studies to track microplastics in model organisms.
WP3
The hazard assessment working package: we will follow a three-tiered approach of increased complexity, starting with cell cultures, through whole tissues, and finally organisms. The objective is to confirm and quantify if the presence of microplastics in the body poses a hazard to human health.
WP4
The risk assessment working package. Data from WP2 and WP3 is fed into this working package: here, an innovative approach to risk assessment will be deployed. It will combine traditional in vivo-based risk assessment with elements from next-generation alternative techniques.
WP5
The communication and dissemination working package: We are committed to granting access to our results for everyone. Therefore, project's findings will be shared with all involved stakeholders. Information will be disseminated, transparently, using language and means that meet the needs of each stakeholder audience depending on their level of technical expertise.
WP6
The administration and project management working package. All the important, if unglamourous, tasks needed to make science happen, fill data gaps, and generate answers to the questions we have on microplastics.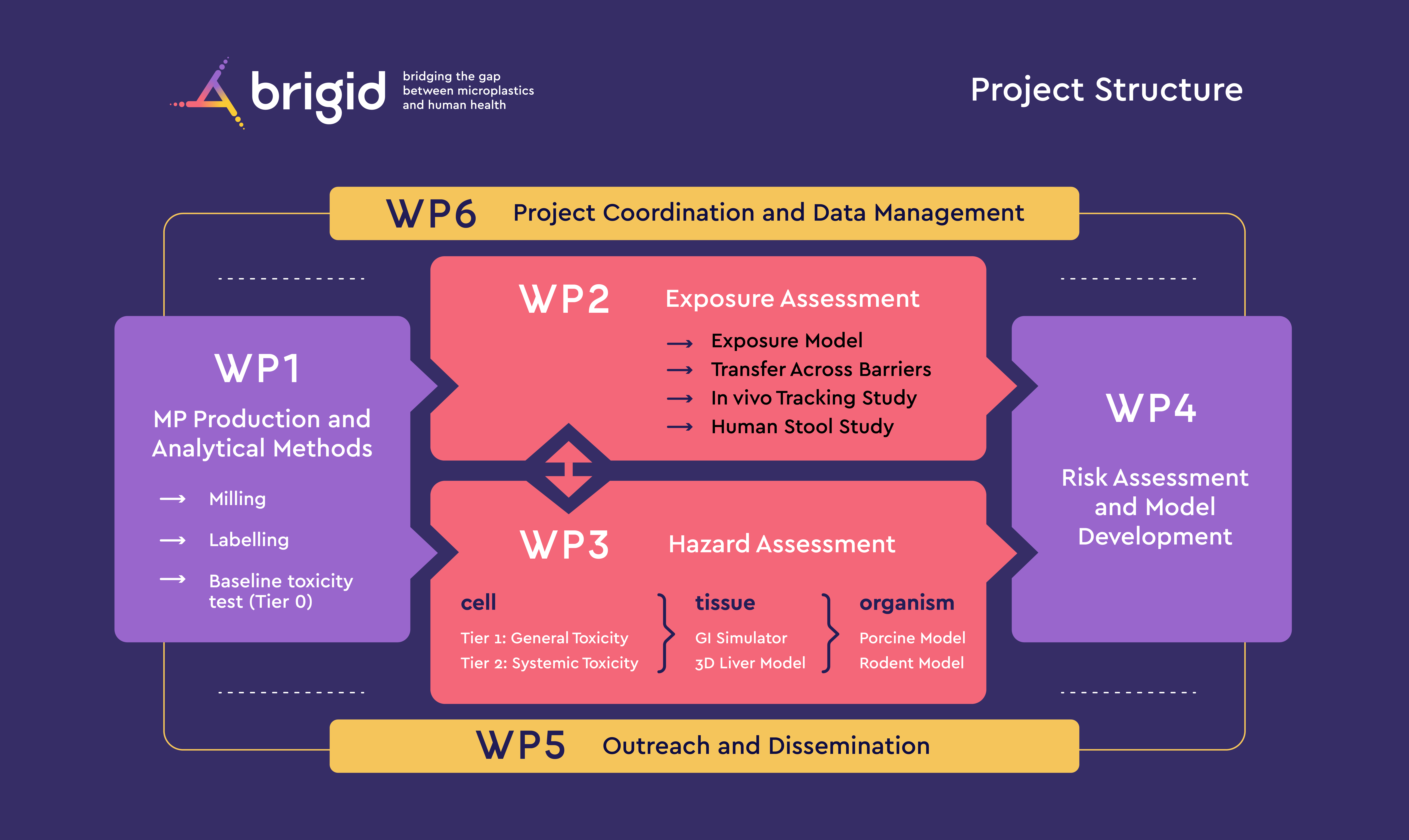 Hover over image for more information
Our partners
The project work is carried out by a Consortium of independent Partners: internationally known scientists from both private and public research institutes, such as the Wageningen University and Research (WUR) and the Nederlandse Organisatie voor Toegepast Natuurwetenschappelijk Onderzoek (TNO) in the Netherlands.
External Advisory Board
Brigid also has an Advisory Board of 13 independent members, bringing their different backgrounds – science, policy, NGO and governmental agencies – and perspectives together to recommend and advise on further steps.
Latest developments
The scientific work is ongoing, with our first project milestone being the completion of the Human Stool Study (HSS) by summer 2023. The study was conducted by an independent team of researchers with the aim of counting and characterising microplastics in human stool. Preliminary results have now been published with final results expected in June. More information on the aims and scoping of this study is available in the More Information box below.
Actions from the industry
We have been active on the global level to activate microplastic research and coordinate between national and international projects:
Brigid is part of the International Council of Chemical Associations (ICCA) MARII initiative.
Brigid stands as a part of the plan which will bring Plastics Europe's member companies toward their Safety, Sustainability, and Circularity goals. Our aim is to answer important questions about the potential effect of microplastics on humans, and, in the process, contribute to the development of evidence-based and effective policy making.

For information and questions, please send your inquiry to brigid@plasticseurope.org