PATHWAYS TO A CIRCULAR,
CLIMATE NEUTRAL PLASTICS
SYSTEM IN EUROPE
The comprehensive independent report – "ReShaping Plastics: Pathways to a Circular, Climate Neutral Plastics System in Europe" – calls for faster systemic change towards circularity and net zero carbon emissions
Commissioned by Plastics Europe, this independent report developed by SYSTEMIQ aimed to critically evaluate current progress and assess the potential of different levers to help transition towards the EU's net zero carbon emissions and circularity goals by 2050. The conclusions will help the plastics industry to respond most effectively to the severity of the climate crisis and the challenge of plastics waste.
ReShaping Plastics provides a science-based, practical roadmap based on a similar approach and scientific methodology developed for the ground-breaking report Breaking the Plastic Wave. It explores a series of scenarios based on current publicly available market data on innovations, commitments and policies that are underway and in the pipeline. It also makes projections about how these different elements, including emerging technologies, may play out over a long time-period.
Plastics Europe welcomes the SYSTEMIQ report. We support its central finding that faster systems change is essential, that circularity is the most critical medium-term lever of the European plastics system's transition. As the report confirms we transformative change also requires a new policy framework that better incentivises investment and innovation and keep the European industry globally competitive as the EU transitions to net zero.
We also support the report's call for more intense and effective collaboration between the plastics industry, our value chain and policymakers and are exploring a package of measures to accelerate the industry's transition.
It is encouraging that the report recognises the vital role plastics play in achieving the EU's broader net zero emissions goals. They help deliver emissions savings in other key sectors like construction, automotive, packaging and medical, and they are indispensable for the development of renewable energy technologies.

Dr. Markus Steilemann – President of Plastics Europe
Five essential findings from the report
The European plastics system is already adapting to address the challenges of climate change mitigation and circularity, but not yet fast enough to align with the goals of the Circular Plastics Alliance, European Green Deal, or the Paris and Glasgow climate agreements.
There is no 'silver bullet' solution to significantly reduce waste disposal and GHG emissions. Upstream and downstream solutions are complementary and are most effective when deployed together.
Ambitious adoption of circular economy approaches in the plastics value chain – i.e. applying upstream and downstream solutions together – can drive significant reductions in GHG emissions and waste disposal in the next decade and beyond.
In addition to these proven circular economy approaches, there are multiple less mature pathways to develop and deploy innovative technologies and approaches that further decrease GHG emissions and tend to decouple plastic from fossil fuel feedstocks.
The next three to five years are a critical window for action. Long technology maturity cycles and CAPEX lock-in for large infrastructure investments mean that the decisions taken in the early 2020s will determine whether or not the European plastics system will achieve a circular economy and net zero GHG emissions by 2050.
The plastics industry has an important role to play in cutting emissions, reducing waste and increasing circularity. It is time to replace fossil feedstocks with circular raw materials with a significantly lower carbon footprint. The new report shows a range of options and scenarios to get there, which we will carefully examine. Of course, we do not yet have all the answers to the challenges we face. That's why we support the report's calls for more intense and effective collaboration with our value chain and policymakers.

Dr. Markus Steilemann – President of Plastics Europe
ReShaping Plastics
"ReShaping Plastics: Pathways to a Circular, Climate Neutral System In Europe" presents an evidence-based roadmap for a paradigm shift in the European Plastics system. This report aims to help guide policymakers, industry executives, investors, and civil society leaders as they seek to understand the trade-offs and navigate through a highly contested and complex terrain towards a circular Europe plastics system.
Our members are undertaking huge investments and a far-reaching reorganisation of their production and technology base. To further accelerate the industry's transition, we need a new and enabling policy framework that better incentivises investment and innovation by fostering a climate of creative competition. We must harness the power of the EU Single Market and find workable mechanisms and measures to keep the European industry globally competitive as the EU transitions to net zero.

Virginia Janssens – Managing Director of Plastics Europe
Accelerating the industry's transition to net zero carbon emissions and full circularity
At Plastics Europe, we are committed to engaging with all relevant stakeholders to address the challenge of delivering the faster systemic change called for in the report. That is why we are proposing a package of measures to help implement the report's recommendations. These include:
Developing a roadmap for Plastics Europe and its members to accelerate the industry's transition towards 2050. This will include interim milestones/targets and more ambitious policy recommendations, and the development of mechanisms designed to support and incentivise the industry. This roadmap will report/review the targets being set by its members and the progress being made.
Ensuring all Plastics Europe policy positions are designed to accelerate the plastics system's transition towards higher circularity and net zero emissions by 2050 – including the need to transform upstream and downstream GHG reduction and circularity levers.
Exploring the creation of a new multi-stakeholder platform in 2022 modelled on the report's proposed 'plastics transition committee'. This would be designed to ensure a step-change in the intensity and effectiveness of dialogue and collaboration with policymakers and the plastics value chain.
Featured Exhibits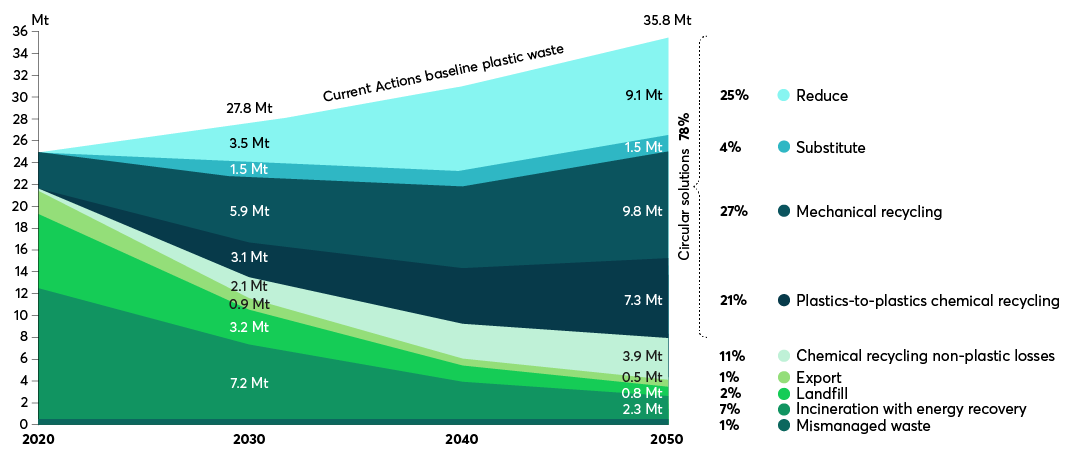 Source: "ReShaping Plastics" model
Source: "ReShaping Plastics" model
Source: "ReShaping Plastics" model
Working together towards change
Plastics manufacturers are under no illusions about the scale and complexity of the transition. They have been investing and innovating to address the issues across the whole plastics system for a long time. They are already working with partners in the plastics value chain to deliver new systems thinking, mindset and behavioural changes, higher-performing products, eco-design innovation and new infrastructure.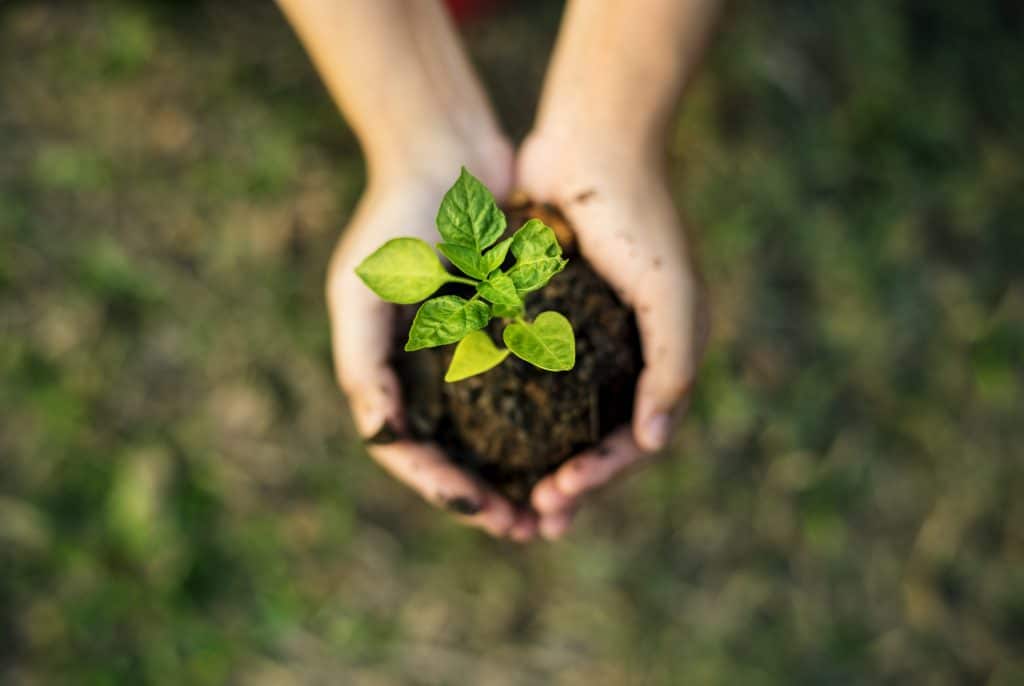 With plastic pollution continuing to abound, the ReShaping Plastics study is a key framing exercise to bring circularity and decarbonisation into the agenda. This report portrays the scale of political, technological and financial leaps forward needed in order to make plastic a sustainable material. The findings of this report constitute a measuring tape that we should use to evaluate whether the upcoming laws and industry commitments can deliver to the challenge of stopping plastic pollution.

Joan Marc Simon – Executive Director, Zero Waste Europe
This report shows a path for the European plastic industry to achieve climate neutrality by 2050 and puts the application of the circular economy principles at the core of this transition. Adoption of circular strategies for both the private sector and civil society are needed to tackle the three most pressing challenges of climate crisis, nature loss and mounting inequality. Cross-industry collaboration within the plastic value chain will be instrumental to overcome the challenges. Plastics Europe has the opportunity to lead the transformation, and we look forward to contributing to that through our work with WBCSD's Circular Plastics & Packaging project.

Cyrille Durand – Lead, Plastics & Packaging, WBCSD
As we are already front runners in waste logistics and collection, it is important to differentiate the European plastics system and its challenges from the global one. Littering is not the main European challenge, and therefore, gratuitous reductions and substitutions are not the answer. ReShaping Plastics has given us a long-awaited science-based quantification of the potential gains of different approaches to reaching net zero. Single solutions will not cut it, nor will continued responsibility-shifting between actors. Read the report, absorb the recommendations and get to work. Everyone.

Kim Ragaert – Full Professor & Chair of Circular Plastics, Faculty of Science and Engineering, Maastricht University
This report sets a comprehensive picture on how the plastic industry in Europe can meet the carbon neutrality challenge. Its findings make it clear: we need to start by reducing, reusing, substituting, and recycling, which are all circular economy features. More costly and uncertain technological approaches such as carbon capture storage and use may only play a secondary role once circular solutions have been fully implemented. We hope this will help create a sound base to prioritise policy developments and innovations in the plastic sector. The plastic sector's sustainability journey needs to continue and intensify, and we welcome the idea to set up a stakeholders' platform to best approach such a journey.

Stéphane Arditi – Director of Policy Integration and Circular Economy, European Environmental Bureau (EEB)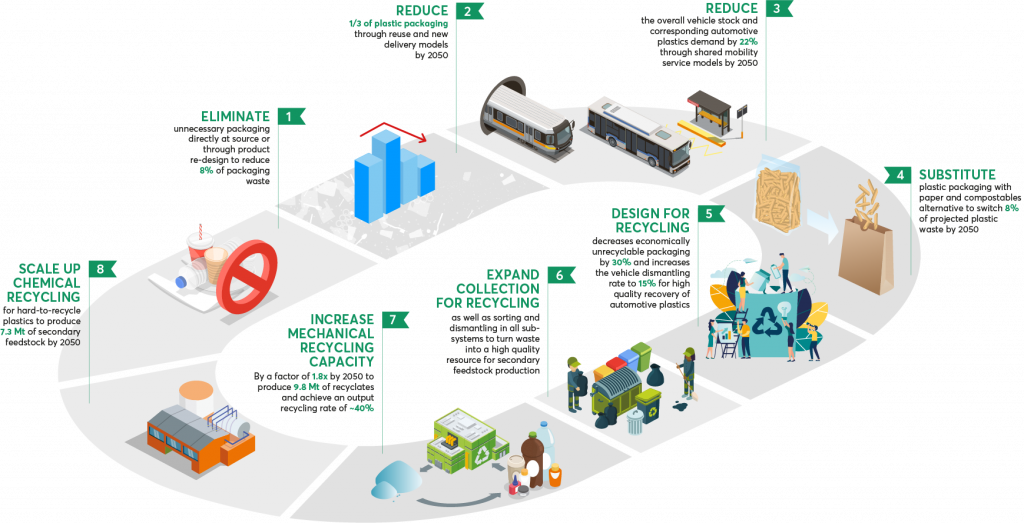 Fast Facts
The CIRCULARITY SCENARIO reduces 80% of end-of-life plastic disposal by 2050 compared to today, effectively reducing system CO2 emissions by 65%
24.5
million tonnes of plastic waste
generated in 2020
14%
of plastic waste were recycled, providing 3.5 Mt of recyclates in 2020
50%
of today's European plastic waste is incinerated for energy recovery
95
million tonnes of CO² emitted per year in 2020, one-third is caused by incineration
Want to learn more?
Further information available here.