Borealis is replacing traditional feedstock with a sustainable alternative for the production of plastic applications, thanks to the launch of its Bornewables™ portfolio of circular polyolefin products. The Bornewables™ are manufactured with second-generation renewable feedstock derived solely from waste and residue streams, for example, from vegetable oil production; the paper and pulp industry; or used cooking oil.
From traceability to the circular economy
These waste and residue streams are traceable back to their point of origin, following the ISCC PLUS chain of custody. The Bornewables™ are ISCC PLUS certified with a reduced carbon footprint, enabling Borealis' customers to meet their sustainability targets while maintaining existing quality standards.
"Our Bornewables™ portfolio represents a key step in our efforts to offer products decoupled from fossil-based feedstock, with the aim of providing a solution to the climate challenge by supporting for instance the EU Green Deal. We are accelerating immediate action on circularity and lowering CO2 footprints in line with our EverMinds™ mindset." says Robin Bresser, Marketing Manager Infrastructure at Borealis.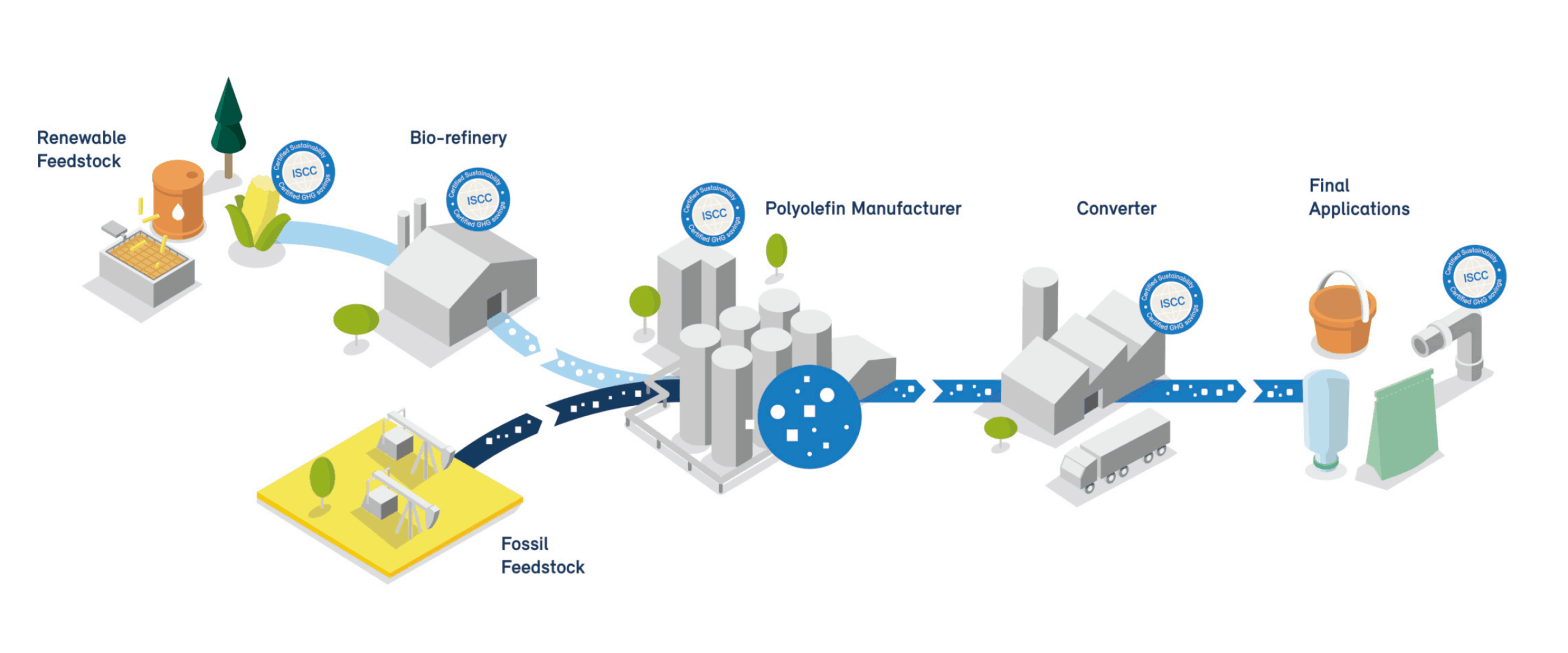 A move away from fossil-based feedstocks
The use of Bornewables™ provides a reduced carbon footprint to the end-product compared to conventional plastics, and contributes to the circular economy by helping to decouple plastics from the use of fossil-basedfeedstocks. This is already proving beneficial to customers.
A collaboration with Uponor Infra has seen the creation of a new gravity plastic pipe using renewable raw materials that demonstrates a CO2 footprint reduction of up to 70%.
Borealis are also working in cooperation with the Jokey Group to jointly accelerate action on circularity in packaging solutions through the use of the Bornewables™.
During the production of the Bornewables™, sustainably sourced renewable feedstock reduces reliance on fossil-based feedstock by at least 73%. And analysis shows that even in the case of energy recovery when the carbon stored in the product is released during incineration, the carbon footprint reduction still amounts to a 44% reduction compared to polypropylene (PP) from fossil-based feedstock, and a 42% decrease compared to polyethylene (PE) from fossil-based feedstock.
About Borealis
Borealis is one of the world's leading providers of advanced and sustainable polyolefin solutions and a European front-runner in polyolefins recycling. In Europe, we are a market leader in base chemicals and fertilizers. We leverage our polymer expertise and decades of experience to offer value adding, innovative and circular material solutions for key industries such as consumer products, energy, healthcare, infrastructure and mobility.
In re-inventing essentials for sustainable living, we build on our commitment to safety, our people, innovation and technology, and performance excellence. We are accelerating the transformation to a circular economy of polyolefins and expanding our geographical footprint to better serve our customers around the globe.
With head offices in Vienna, Austria, we employ 6,900 employees and operate in over 120 countries. In 2021, we generated total sales of EUR 12.342 EUR billion and a net profit of EUR 1,396 million. OMV, the Austria-based international oil and gas company, owns 75% of our shares, while the remaining 25% is owned by a holding company of the Abu-Dhabi based Mubadala. We supply services and products to customers around the globe through Borealis and two important joint ventures: Borouge (with the Abu Dhabi National Oil Company, or ADNOC, based in UAE); and Baystar™ (with TotalEnergies, based in the US)
www.borealisgroup.com | www.borealiseverminds.com
About Uponor
Our offering, including safe drinking water delivery, energy-efficient radiant heating and cooling and reliable infrastructure, enables a more sustainable living environment. We help our customers in residential and commercial construction, municipalities, and utilities, as well as different industries to work faster and smarter. Uponor employs about 3,900 professionals in 26 countries in Europe and North America and Uponor's products are sold in more than 80 countries. In 2021, Uponor's net sales totalled approximately EUR1.3 billion. Uponor Corporation is based in Finland and listed on Nasdaq Helsinki.
About Jokey
Jokey has stood for outstanding expertise in plastic injection moulding since 1968. As a family company based in Wipperfürth, Germany, they are one of the world's largest manufacturers, innovators, and technology leaders in the field of rigid plastic packaging – and have been a pioneer in sustainable packaging for more than 30 years.